Have you ever been captivated by a speaker; either in a live setting, or even just watching a TED talk on YouTube?
If you wondered where that magical connection you felt came from, do you know you can achieve the same effect yourself? Yes, we all have the ability to speak to the hearts of our audience members; even if we are new to speaking or very nervous.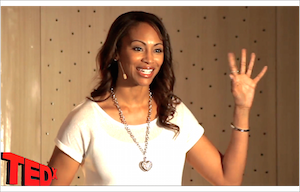 If you can connect with your heart, then you can connect with the hearts of others. It really is about authenticity. When we speak from the heart, it has a kind of resonance with others that just cannot be ignored.
And it can't be faked either. Subconsciously, we all know if a speaker is sharing from their heart or not. Have you ever listened to someone and felt kind of 'icky', like they were trying to sell you or sway you on purpose? That's the difference. When you are honest, open and authentic, people feel this on the subconscious level.

I know this myself as someone who was trained for television and the stage. I've given plenty of talks in my time, including two for TEDx, and I'm currently planning a third for them. You can see some of my speaking highlights below. The ones that really touch people are the ones where I share something of myself. Something real, honest, and even vulnerable.

*
Of course, the technical skills of speaking are important too. When you can structure your message, weave in your personal story, and deliver it articulately, then you can connect with more people in a way that lasts.
So if you would love to get your own message out their as a confident and memorable public speaker, then I have something awesome for you.
JOIN ME:
Tickets are $378 - to purchase your ticket simply email me and request payment information.
Instalment options are available upon request.
VIP tickets are available for $800. This price includes Friday night dinner with me and our guest speaker, Deri Llewellyn-Davies. Private mentoring with me, and a speaking opportunity.
Email booking@andreapennington.com